Chiang Mai Is Situated In The Northern Park Of Thailand Amongst Misty Mountains And Astonishing Nature. The City Is Brimming With Lively Nightlife, Local Crafts, Delicious Local Cuisine, Thai Massages, Cooking Courses, And Picturesque Local Temples. It Was Founded In 1296 And Since Then Has Become A Magnet For Travelers And Adventurers From Across The Globe. Now This Modest In Size City, Is One Of The Most Vibrant And Beloved For Any Visitor. This Article Will Show You The Top Reasons To Visit Chiang Mai On Your Next Journey.
Flight Of The Gibbon
For A Unique Perspective On The Astonishing Thai Rainforest, Book Yourself Onto The Best Zipline In The Country. Local Experts Will Teach You About The Rainforest And Make Your Day Unforgettable. The Flight Of The Gibbon Has Ziplines, Sky Bridges, Nature Trails, And Abseils Dispersed In The Tall Treetops. Wild Gibbons Stay Near The Canopy Where You Can Catch Glimpses Of Them Jumping Through The Dense Foliage. This Is A Day Of Adventure And Nature For The Whole Family.
Elephant Sanctuary
Unfortunately, Many Elephant 'sanctuaries' Use The Term Without Being A True Refuge For Elephants. Be Careful Which Tour You Book And Avoid Any Tours Featuring Elephant Riding, Elephant Painting, Or Elephant Swimming. Any Of These Non-natural Behaviors Mean The Elephants Have Been Prodded, Hit, Hurt, And Trained For Tourists' Pleasure.
Chose Sanctuaries Such As Into The Wild Elephant Camp, Happy Elephant Home And Maeklang Elephant Conservation Community. These Sanctuaries Help Give The Elephants A Safe Home, Support Local Community Development, And Provided Excellent Education Opportunities For Visitors.
Night Safari Park
The Chiang Mai Night Safari Park Provides Visitors A Unique Experience Of A Zoo Created Like A Theme Park. During The Daytime There Is A 1.2km Walking Trail Around A Lake Where Visitors Can See Many Animals Roaming Around. The Park Holds Over 400 Animals With Everything From Jaguars, White Tigers, Monkeys To Wallabies And Even Koalas.
At Night The Park Is Split Into Two Sections, The Savanna Safari Zone And Predator Prowl Zone. You Can Travel In The Sections In An Open Sided Tram And See Many Animals Wandering Around The Massive Park. The Savanna Safari Zone Features White Rhinos, Hyenas, Lions, Giraffes, Ostriches, Zebras And Water Buffalos. The Predator Prowl Zone Has Many Apex Predators Including Tigers, Lions, African Hunting Dogs, White Tigers, And Canadian Wolves.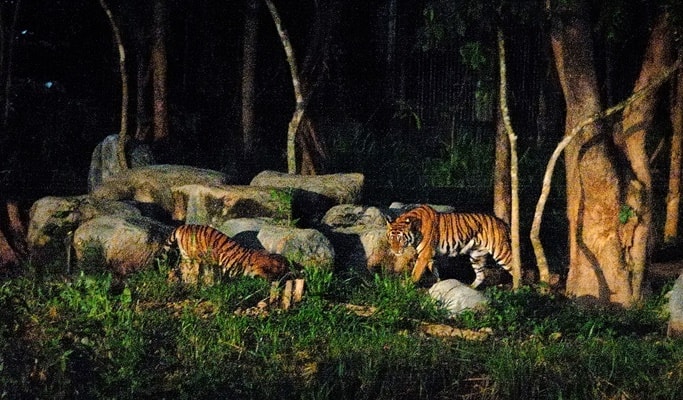 City Temples
No Visit To Chiang Mai Is Complete Without The Cultural Exploration Of The Many City Temples. Visit The Wat Phra That Doi Suthep, Wat Chedi Luang, Wat Phra Sign And Doi Suthep To Catch A Glimpse Of The Beautiful, Religious Architecture. The Wat Phra That Doi Suthep Is A Buddhist Temple Named After The Mountain Where It Is Situated. This Location Is Considered A Sacred Site By Many Thai People. When Visiting These Temples, Make Sure To Dress Respectfully And Leave Your Beach Attire Behind.
Visit Nimmanhaemin Road
Nimminhaemin Road The Trendiest Park Of Chiang Mai Containing Many Fancy Bars, Restaurants, And High-end Shops. It Is Also The Most Expensive Part Of Chiang May But A Great Destination If You Wish To Eat At A Famous Restaurant, Purchase Designer Items, Or Drink An Extravagant Cocktail In Style.
Doi Inthanon National Park
The Highest Mountain In Thailand, Doi Inthanon Is Surrounded By A Magnificent National Park Which Coves Over 48,000 Hectares Of Land. It's Height At 2565 Meters Means Temperatures Frequently Drop Below 0 Degrees. So, Pack Your Jacket!
The Park Is The Home To The Largest Number Of Bird Species In All Of Thailand, So If You Are An Eager Bird Watcher, Do Not Forget Your Binoculars! The Views From The Mountain Itself Provide An Impressive Backdrop To Any Photo Of This Gorgeous Part Of The World.
Boat Trip On The Mae Ping River
Boat Trips Always Give An Alternate Perspective To Any Destination, And An Afternoon River Cruise Will Allow You To See Traditional Teak Houses And Expansive Greenery. The Cruises Typically Sail For 45 Minutes Before Stopping Off At A Farmer's House. There You Can Learn About The Production Of Jasmine Rush And Admire The Local Way Of Life. Meeting Local People And Joining In Their Traditions Will Give You A Truly Personalized Adventure.
These Are Just The 7 Top Reasons For Why To Visit This Exciting City. Chiang Mai's Night Bazar, Long Neck Karen Tribe, Loi Krathong Festival, Hot Springs, And San Kamphaens Road Are Just A Few Of The Other Destinations Worthy Of A Visit. The City Will Surely Keep You Entertained Whether You Are Visiting For Three Days Or Three Weeks. What Are You Waiting For?